Get to know the course
Innovation has always been a trademark of Crispi Institute, which reaches 27 years of experience, promoting a REVOLUTIONARY course in the universe of minimally invasive procedures: the Full Pelvic Surgeon.
Aimed at gynecologists with proven surgical experience, who already perform laparoscopic surgeries skillfully, the course aims to boost professionals' knowledge and provide a definitive leap towards the development of a surgical expert.
The program is planned so as to meet current demands, allowing the surgeon to move around the pelvis with ease, having the competence to discuss the best possible medical approach with his/her multidisciplinary team, thus effectively contributing to the treatment of the most complex pathologies.
Who the course is for
Gynecologists who meet one of the following requirements below:
Hold a certification in Laparoscopic Surgery by recognized medical societies or;
Have at least two years of experience in Minimally Invasive Surgery or;
Prove participation in 20 Laparoscopic Surgical Procedures
Local
The course takes place at the Crispi Institute's Minimally Invasive Surgery School, in partnership with the College of Medical and Health Sciences (Suprema), in the city of Juiz de Fora.
A welcoming environment, where lavish nature and technology merge to offer the student a highly inspiring learning scenario.
Are you interested?
As vagas are limited, don't miss out on a chance to be on the next tour!
Make your enrollment
Multimedia Auditorium
Real time surgeries broadcast through high speed optical fiber system to the Techniques and
Tactics rooms.
Immersion Course
Three-day-a-month FULL IMMERSION in the course environment, fostering networking and
enhancing development opportunities for a solid national medical framework.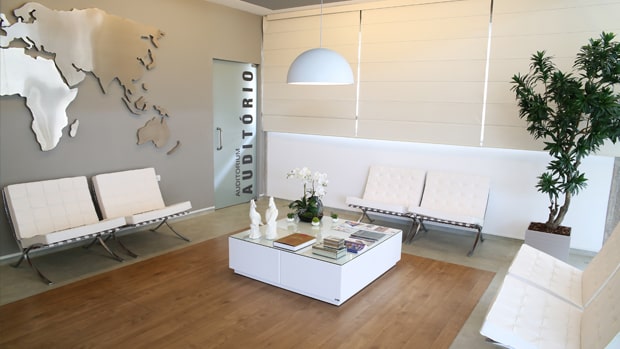 Comfortable Facilities
We invest in comfortable facilities so that our students always have a pleasant experience,
compatible with the standard that we require from our partners.
Complete Surgical Center
Our surgical center is spacious and fully equipped with the most modern devices regarding
teaching medical and surgical techniques. Our students count on state of the art equipment from day 1 through their graduation!
VivoLab in ALL modules
The opportunity for experimental surgery in animals will be offered in our surgical center, aiming at greater mastery of medical-surgical practices and further experience when performing surgical
procedures in human patients.
CadaverLab
Our Full Pelvic Surgeon students will have access to two fresh cadaver training modules, one of the most comprehensive and safest training tools. The preserved structures, in excellent condition, allow an in-depth study of human anatomy, as well as the realistic simulation of surgical
procedures that range from low to high complexity.
Simulators
Our students improve their motor coordination skills and reproduce several surgical procedures through exercises performed on anatomical models.
Goals
Crispi Institute's pioneering approach to minimally invasive surgeries was essential for the creation of the Full Pelvic Surgeon course, which aims to train up-to-date Pelvic Surgery experts with a comprehensive view to the health area. By the end of the course, students will have had the
chance to train in Simulators, Surgical Center, VivoLab and CadaverLab of the Training Complex, in Juiz de Fora / MG. They will also be able to:
Identify anatomical, neuroanatomical and vascular structures in a clear and safe way.
Diagnose, map and implement the best strategies for the treatment of highly complex
gynecological diseases.
Identify and conduct effectively surgical complications.
Understand the value of working in multidisciplinary teams, sharing ideas and discussing
strategies.
Program content
Fundamentals of laparoscopic and robotic practice
Complex benign gynecological pathologies
Gynecological Oncology
Abdominal Wall
Coloproctology
Urology
Pelvic Floor
Infertility
Endometriosis
Vascular SurgeryThoracic Surgery
Selection process
Curriculum AnalysisWRITTEN Qualifying Test – Knowledge of Laparoscopic Gynecology (Bibliography)
Gynecological Endoscopy Treatise
PRACTICAL Qualifying Test (Three complete points, using laparoscopic technique in simulator. Time: 5 minutes)
Interview
Cartão de crédito

Pré-matrícula

R$ 1.100,00
Recomendado
Boleto

Pré-matrícula

R$ 1.100,00

Parcelas

36x de R$9.364,00
* Registration fee R$ 1,100.00. After paying the registration fee, our team will get in touch in order to proceed with the registration of the candidate through the email provided in the registration form on the Even3 platform. The enrollment will only be carried out after all the proving documents of necessary conditions to join the course are sent. In case of withdrawal, the pre-registration value will not be refunded, being retained as payment for the internal administrative routines necessary for the registration of the candidate. Enrollments will only be effective after FULL payment. The Crispi Institute reserves the right to open classes only with a minimum quorum of 16 duly enrolled students, up to 10 days before the starting date. In case of insufficient quorum, students will be contacted by our team, so as to decide whether they prefer to wait for a new class, be transferred to another course or receive the refund of the amounts paid.